IQ STUDIO PDF

FROM IMAGES TO ANSWERS

®. . . . . . . . . . . .

The Latest Technology for

Developing Image Analysis Applications

IQstudio offers a unique architecture that enables rapid

exploration and discovery of an extensive suite of analytical imaging tools. This high-level, easy-to-learn interface makes analytical imaging more accessible to a wider range of developers, from the novice to the advanced.

Experience Easier Testing & Debugging in a

Modern Development Environment: Quick Prototyping

The integrated Microsoft

® Visual Basic ® for Applications (VBA) allows developers of all skill levels to create new imaging plug-ins and tools in minutes.

Customize and Extend:

IQstudio offers convenient wizard support for Visual Basic, C++, and managed .NET languages such as VB.NET and C#.

Intuitive Development Wizards:

Easy-to-use development wizards enable non-career programmers to create sophisticated imaging applications.

Focus on Functionality, not Code with Time-tested Image Analysis Objects

Complete Analytical Imaging Library:

IQlogic, the object model exposed by IQstudio and the IQ run-time objects, allows you to take advantage of the same tools that Media Cybernetics has employed for over 20 years of application development. Accelerate your development cycle with 165 objects for image processing, analysis, and databasing, including:

.

Image Display - Display images in an individual workspace or within other objects

.

File Input/Output - Most common file formats supported and sequence file formats supported

.

Image Enhancement - Includes morphological, enhancement, edge, and kernel filters, contrast enhancement, display range and other enhancement options

.

Object Measurement – Includes blob analysis, edge detection, angle measurement, distance, point-to-point, area, and other measurement options

.

Databasing and Reporting – Develop powerful archiving and data extraction support with object-oriented database tools and report features

Add Integrated Capture & Display

The optional

IQstudio Video Capture and IQstudio Digital Capture products offer ready-to-use image capture and display capabilities for your image analysis applications. Save on development time by using the pre-designed capture GUI. The IQstudio capture products include support for scores of frame grabber and scientific digital camera drivers.

Give your Applications a Competitive Edge

with Built-in Image Informatics Tools

Add a Powerful Image Database:

IQstudio's wizards enable you to create advanced, object-oriented databases that allow your end-users to archive, manage, and mine their images and data. No other image development package offers built-in database tools.

Provide User-friendly Reporting Tools:

Allow your end-users to share and present their image information with sophisticated reporting features.

Deploy Sophisticated, Market-ready

Imaging Applications

Run-time Licensing Options:

With IQstudio run-time licensing, you can quickly create customized, stand-alone applications to distribute internally in your organization, through OEM partners, or to third-party customers.

Receive First-class Development Support

Access Extensive Examples & Documentation:

The IQexplorer™ tool in IQstudio organizes and runs sample code & projects from one convenient location. Receive auto-updates when new documentation or source code is available.

Exchange Ideas with Other Developers:

The IQ Imaging Development Forum allows you to share ideas on IQstudio programming, troubleshooting, and known issues. Learn from other IQstudio developers and the Media Cybernetics support team. Use the sample code and projects in the IQexplorer tool to shorten your learning curve and accelerate your development process

System Requirements

To install and work with IQstudio, you will need the

following equipment and software: . Microsoft ® Windows 2000, Windows XP Professional or Windows Server 2003. . IBM Compatible PC, Intel Pentium III (or better), 1.0 GHz (or better) processor (Pentium 4 2GHz recommended). 512MB (minimum) memory (1GB recommended). . A VGA resolution 256-color display device (1024 x 768 32-bit true color recommended). . 200MB disk space to hold the IQstudio files. . A Windows-compatible mouse, keyboard, and CD-ROM drive. A COM or .NET compliant development environment for compiling applications. Wizards are provided for Microsoft Visual Basic 6.0 and Microsoft Visual Studio .NET 2003 (C++, C#, and VB.NET).

If you do not already have the Adobe

Acrobat Reader which enables you to

view these files, please click the button

below to download the free reader software
New Software Makes Scientific Image Analysis Accessible to Beginners
Intelligent Perception Co releases a new version of its image analysis software for scientists. The software is fully automatic and does not require a background in image processing or tedious trial-and-error work. Its areas of application are microscopy, biomedical research, geographic information systems, forensics, biometrics, and many others.
Huntington, WV (PRWEB) September 5, 2007 -- The sophisticated image analysis software that can turn complex investigations into one-click solutions has just gotten easier to use and readily affordable, with the release of a new product developed by a Marshall University mathematics professor.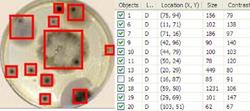 Pixcavator is an image analysis software that automatically detects and evaluates important features in a digital image. It allows a researcher to extract data from the image and save it as a spreadsheet, explained Dr. Peter Saveliev, who created the software and founded Intelligent Perception, the firm that is marketing it.
Those functions can serve the needs of scientists in a wide range of disciplines, from biology and chemistry to medical imaging, forensics, geology, microscopy, biometrics, material science, satellite imaging, and computer vision. Counting cells and nuclei from histological sections is a new promising area, Saveliev said.
"The breadth of applications is astounding," he noted. "Pixcavator is what we envision will become 'the Excel of image analysis.'"
In part, that is because Pixcavator overcomes the barriers of both price and complexity that have previously characterized image analysis software, Saveliev said. He noted that it takes only a few minutes to learn how to use Pixcavator, which sells for just $99.
"Pixcavator's patent-pending technology makes image analysis tasks automatic and eliminates the tedious trial-and-error work required by most of today's image processing suites," he explained. "It is especially suitable for beginners and people with no background in image processing."
All it takes is a single click for a Pixcavator user to capture all of the objects in an image -- both those visible to the naked eye and the objects that are unseen -- and turn the data into a spreadsheet that documents the location and measurements of each of the elements in the image. That means that a biologist can instantly count and evaluate the sizes of colonies in a Petri dish, Saveliev said. In the same way, a forensics researcher can analyze the characteristics of a fingerprint, or a geographer can examine elements on a map, among the many applications possible. The user also can mark objects in the spreadsheet to highlight objects in the image, or vice versa, and extract or remove objects from the image in order to simplify, enhance or manipulate the image.
"It's also fun to use," Saveliev said.
A free trial version of Pixcavator, which runs on Windows ME, 2000, XP or Vista, is available for download at InPerc.com, along with additional information about both the image analysis software and Intelligent Perception.
Pixcavator is one of several products available from the Huntington, West Virginia, firm that develops software for digital image analysis, image manipulation, and computer vision. This technology draws upon recent research in applications of advanced mathematics in digital image analysis.
###