There is currently an enormous growth of private community- or suburban-run CCTV schemes to deal with the serious incidents of violent crime both in the streets and the houses or places where South Africans live.
Some of these schemes are highly innovative and have had an immediate and appreciable impact on crime in the areas that they cover. The suburban CCTV schemes can consist of up to 60 cameras, an appreciable size for the CCTV industry.
Many of the suburban schemes make use of contracted security to conduct surveillance. However, a number also make use of new IP-based technology CCTV systems which includes the possible facility to allow residents, at least in principle, the opportunity to access to camera views.
During a recent discussion with members of one of these schemes, we had a serious discussion on the feasibility of residents in the suburb participating in surveillance of their own community through access to the system.
The concept of residents of an area viewing their own suburb as part of a more comprehensive coverage using CCTV cameras was initially brought to my attention by an article in CCTV Image, the magazine of the CCTV User Group in the UK (
http://www.cctvusergroup.com/
). In a very balanced and professional perspective of the issues involved in letting members of the public gain access to CCTV systems, they highlighted the developments in the UK town of Shoreditch where residents were invited to participate in viewing cameras operated for their community. This would involve a subscription to a CCTV channel as part of a commercial offering, which includes TV and digital radio channels. The major issues that immediately come up are those relating to privacy and invites comparisons with Big Brother. This was something shared in the UK scenario, and even more of an issue given their strict Data Protection legislation. The dangers of peeping toms and a range of other social concerns were raised and would have equal validity in South Africa.
Community concerns
Perhaps one of the most serious concerns on such a scheme is a simple operational one. Nobody wants a control room inundated with unnecessary calls and demands to view different situations, no matter how well meaning. What is required is a well-handled call reception desk or supervisor of the CCTV operation, and a filtering of calls that then get addressed. It also probably requires a great deal of resident education in terms of what should be reported, how, and the responses that are likely to occur.
One also does not want residents directing CCTV for their own personal agenda, and any kind of reporting should be providing information rather than requesting immediate action - decisions on what steps to be taken should rest with professionals in the control room and not with people outside.
Getting more public access to camera systems within the community could be viewed as a case of 'fighting crime from their sofas', as the article points out. However, the question of using cameras may also be seen in the context of a move to encourage greater natural surveillance of areas.
For example, the use of mixed residential and commercial areas in the country is being encouraged to allow more natural surveillance of areas by those who live there on a full time basis. This contrasts with the abandonment of commercial areas once business hours are finished. If one is looking at encouraging people to check the security of their neighbour's houses or business through an occasional look through the lounge window, is this really different from watching CCTV cameras on a network with a wider coverage of streets in the same area?
Managing the nature of public access to such a scheme does need some careful consideration and control. Without doubt, it should only be available to residents and they would have to be registered users. Abuse of the system or complaints could lead to a loss of access to the system. In addition, some points that have come up in the UK are especially relevant to any party which is considering such an arrangement, including:
* Members of the public will not be able to see close-up views of individuals.

* The public will not be able to track, or to see individuals being tracked by operators.

* Individuals will not be able to control any camera.

* When an operator takes control of a camera to change it from its default wide-angle setting, the feed to the public network is cut.
On the positive side, where some kind of involvement and reporting can be built into the management of a private suburban CCTV operation, it has a number of benefits:
* Getting individuals empowered in terms of getting involved in protecting their own community.

* It helps in addressing the camera to monitor to operator ratio. All cameras could be observed rather than just the limited number of cameras currently being displayed on the monitors in the control room.

* It allows members of the suburb to feel they are getting a tangible return on their investment and encourages their ongoing commitment.

* Operators are kept on their toes as they are continually being audited by those who are responsible for paying their income.

* Practical safety considerations are made possible such as allowing people to view their street before moving in and out of their driveways.
Conclusion
The involvement of residents in such a scheme is not something that should be done lightly, and it should also be carefully thought through. Resident participation is also not a substitute for professional monitoring and should rather be in addition to it. However, in a scenario where the South African public is continually being told that they should be involved in helping out with the fight against crime, it gives people the opportunity to do just that.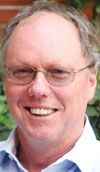 Dr Craig Donald is a human factors specialist in security and CCTV. He is a director of Leaderware, which provides instruments for the selection of CCTV operators, X-ray screeners and other security personnel in major operations around the world. He also runs CCTV Surveillance Skills and Body Language, and Advanced Surveillance Body Language courses for CCTV operators, supervisors and managers internationally, and consults on CCTV management. He can be contacted on
I-Cube. All rights reserved. Revised: February 18, 2008 .